Electric Mountain Bikes, Love them.
The prevalence of electric mountain bikes is rapidly rising, especially in steep hilly riding areas like those that surround Nelson.  While once written off as a fad, e-mtbs are now clearly here to stay.  Some days the Codgers car park can be so full of ebikes that they out-number the "acoustic" or "analogue" mountain bikes.  As electric mountain bikes have gotten better and better and will continue to do so, inevitably leading to more and more of them on the trails.
As a bike shop, not only do we sell electric mountain bikes, but Gravity Nelson is seeing an increasing number of them come through the door for maintenance.   Customers with ebikes quickly notice that drivetrains on their bikes wear out quickly if not meticulously cleaned and lubed after every ride.   At Gravity Nelson we make a point of checking chain wear on ebikes every time they come in for a service job so that we can catch worn chains and replace them before they start to wear out the cassette (which is much more expensive to replace than a chain).  In fact we encourage everyone who buys an ebike to invest in either a simple chain gauge like this one or a pro chain wear indicator like this one and encourage them to regularly check their chains and replace them before they get to 0.75.
This simple trick, in combination with correctly cleaning and lubing the chain can literally save an ebike owner hundreds of dollars a year. More recently though we have stumbled upon a surprising hidden dirty secret unknown to most ebike owners and one which could potentially cost you thousands of dollars if not addressed.
Electric Mountain Bikes, Hidden Dirty Secret.
Most electric mountain bike owners know to bring their bikes in regularly for a service as they often find themselves doing higher mileage than they would do on an acoustic mountain bike.  However we have found that very few electric mountain bike owners understand a critical servicing trick to greatly increase the lifespan and performance of their ebike.  Recently one such ebike came in for maintenance experiencing battery charging problems which required us to remove the battery from the frame and drop the motor out which revealed a very hidden, very dirty, quite shocking secret!  430 grams of mud and dirt stuffed into and around the electric motor!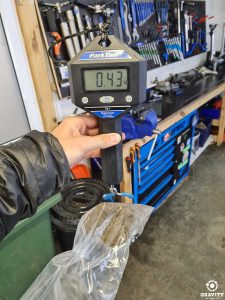 430 grams of dirt found inside an electric mountain bike
This ebike had not had the motor taken out of it for over a year of heavy use, clearly a lot of it in very muddy or very dusty conditions.  The dirt and mud was hidden under the battery and motor cover, which meant that even with regular washing of the bike and it looking "clean", the bike was in fact slowly accumulating more and more mud and dirt in secret.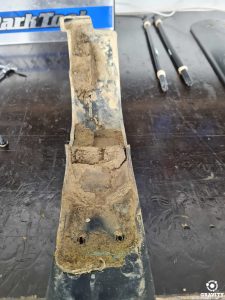 Caked dirt hidden in secret under the ebike motor and battery cover.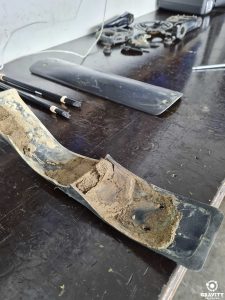 Mud hidden where the sun don't shine, under the motor and battery cover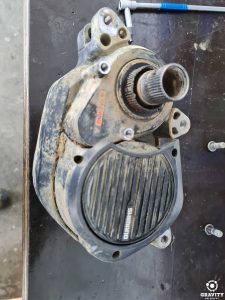 Dirty dirty ebike motor
We carefully removed the motor to check it and were pleased to see that the sealed Shimano E8000 motor unit was not affected at all.  However many of the battery and cable contacts were extremely dirty which were causing the battery charging problems and possible some battery life issues.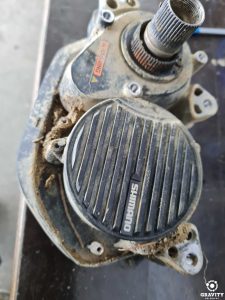 Dirty dirty ebike motor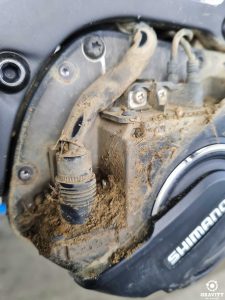 Very dirty battery and wiring contacts on the Shimano ebike motor
Caked mud hidden inside the frame and surrounding the electric mountain bike motor.
We very thoroughly cleaned the motor, coverings, wire connections, battery and motor cavity, and put the damp dirt and clay to one side to weigh later on.   We then reviewed several different brands of ebikes that we have at Gravity Nelson in our rental fleet, as well as a wide range of customer's ebikes from a very wide range of brands to look at how dirt and mud might get into each of these different kinds of ebikes.  Our conclusion is that there does not appear to be any brand or model of electric mountain bike that will be completely immune from dirt and mud building up over time under the motor and battery cover.   Ebike owners will need to make it a regular servicing request to drop the battery and motor out of their bike to clean in these "hard-to-reach" spaces to avoid problems with the motor of battery.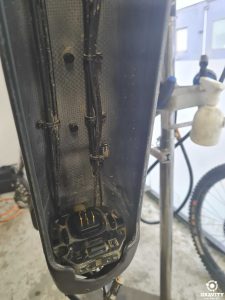 All clean in here now.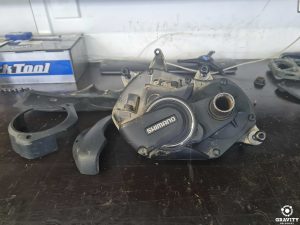 Cleaning the motor, housing and attachments.
Electric Mountain Bikes Hidden Secret, Lesson Learned
I can imagine most ebike owners being quite surprised at the quantity of dirt we found inside this bike, we were certainly surprised as well.  Obviously this problem had built up slowly over time, but in the end was greatly affecting the performance of the bike and finally had gotten so bad that it would not charge correctly.   To our way of thinking this appears to be a possible maintenance issue for all different brands and models of ebikes, and something that owners need to consider when getting their bikes serviced, specifically requesting this to be done.
It shouldn't be necessary to drop the motor and battery out too frequently, perhaps twice a year at the most (unless you are riding in extremely muddy conditions on a regular basis).  Doing this is a somewhat complex and time consuming job (this particular bike took around 2 hours to clean up), but appears to be very important to prevent the kinds of problems we saw with this bike.  Our mechanics brainstormed some other ideas to help increase the longevity of the ebike and to reduce these kinds of problems and we concluded that where bikes come with easily removable batteries it could be well worth removing the battery and charging it separately from the bike leaving the frame open and able to air out and dry.   This could reduce humidity and moisture build up in the frame which would be very beneficial long term.  Perhaps even having a dehumidifier close to the bike after wetter rides could help.
Your Electric Mountain Bike
So, whatever brand or model of electric mountain bike you have, consider booking it in for a deep clean by the Gravity Nelson mechanics, you might be surprised what we find hidden inside your frame, especially if you do a lot of muddy winter riding or dusty summer riding.  Plus at home look at ways that you might be able to air out and dry out the insides of the frame after each ride.   Your ebike will thank you for the extra attention and care and reward you with greater reliability, performance and durability.  You can book your bike in for a service by our workshop by clicking HERE.
If you don't yet have an ebike and are at all ebike curious then pop into our store and have a chat with us.  We can also arrange rental demo rides on our three instore ebikes.  Gravity Nelson carries electric mountain bikes from Santa Cruz and Mondraker, you can check out which bikes are in stock and which are available for pre-order HERE.